Morocco
April 17, 2025 through April 26, 2025
Trekking the Atlas Mountains
Immerse yourself in the wonders of Morocco with Women for Adventure. Trek the Atlas Mountains, ride camels in the Sahara, experience glamping in desert tents, explore the markets in Marrakech and much more! An intoxicating country that is mystical, ancient, challenging and exotic.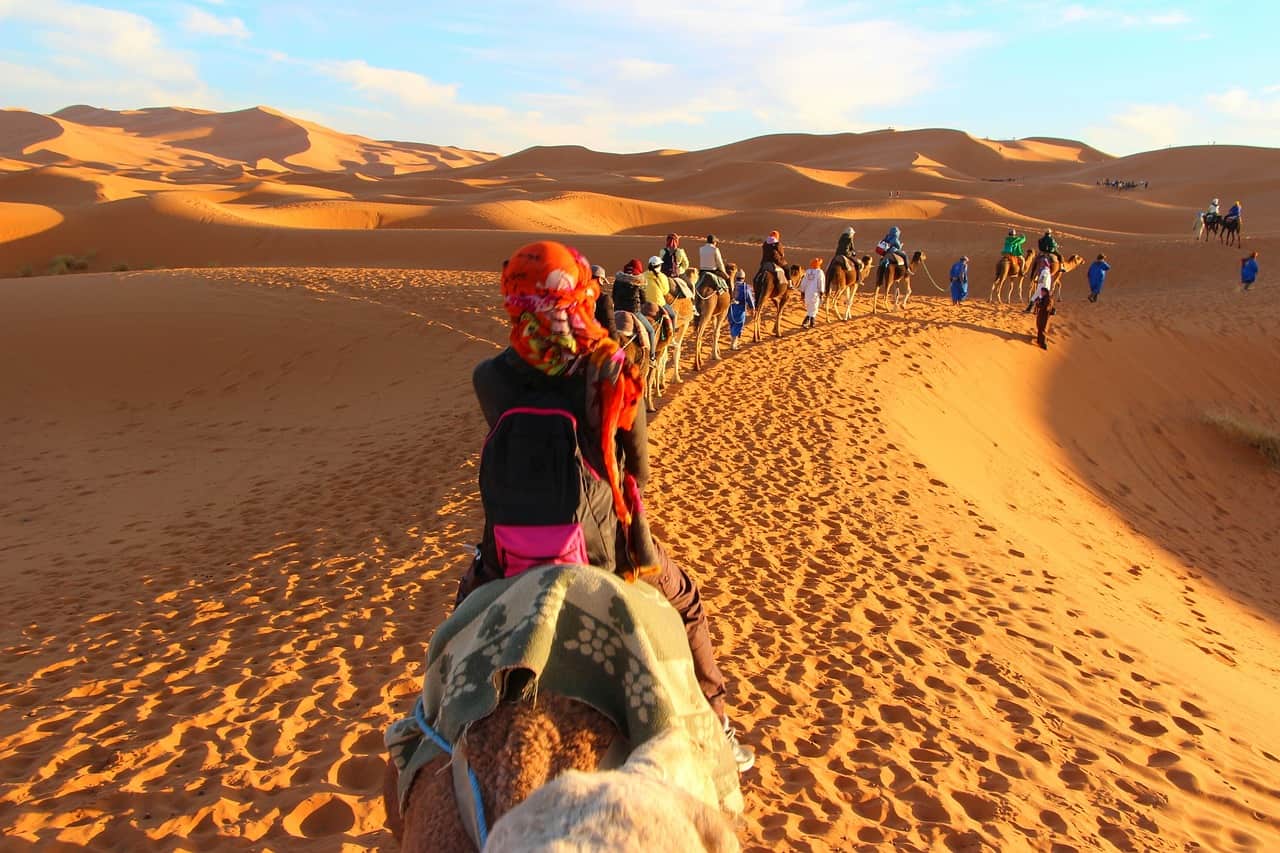 Immerse yourself in the wonders of Morocco with Women for Adventure. Trek the Atlas Mountains, ride camels in the Sahara, experience glamping in desert tents, explore the markets in Marrakech and much more! An intoxicating country that is mystical, ancient, challenging and exotic.
Trip Itinerary
Day 1

Welcome to Marrakesh

This is the final day to arrive at Marrakesh Menara International Airport and transfer to the beautiful Riad Palais Sebban Hotel. The Riad is located in the heart of the medina, or oasis, of Marrakesh, paying homage to the rich and colorful Arab-Andalusian history. We will stay here for two nights. On this first evening, we will gather for the first time at a nearby restaurant for a very special welcome dinner to honor YOU!

Location

Marrakesh, Morocco

Accommodations

Riad Palais Sebban Hotel

Meals

Dinner

Special Welcome Dinner

Day 2

Henna and Live Music while Helping Local Women & Children

After breakfast we will meet our guide to begin exploring Marrakesh, the Red City. The medina is a densely packed, walled medieval city dating to the Berber Empire, with fascinating maze-like alleys. Here, immerse yourself in vibrant souks (marketplaces) that sell traditional Moroccan textiles such as pottery, jewelry, textiles, and other traditional Moroccan handicrafts.

Our walking tour includes the Koutoubia Mosque, Bahia Palace, and Dar Si Said Museum. You will be amazed by the skills of the artisans, as well as the number of items piled creatively in a tiny space! The visit ends at the famous Jamma El Fna Square. The Jemaa el-Fna Square is one of the main cultural spaces in Marrakesh and has become one of the symbols of the city since its foundation in the 11th Century. It represents a unique concentration of popular Moroccan cultural traditions performed through musical, religious and artistic expressions.

The afternoon is free for your own exploration, OR if interested, we are planning a short visit to a center just outside the city that offers temporary lodging to women and children who are victims of violence. This includes abused wives but also single moms, who are rejected by their partners and families. Having children out of wedlock is considered a crime in Morocco. Without the necessary legal support mothers can be incarcerated, and children are unable to get an identity that allows them to have access to a normal life, such as education.  The center also takes care of pregnant refugees and migrant women. During our visit we will do a henna tattoo ceremony with the women. Local musicians will be part of the ceremony, followed by learning some Moroccan dance steps. Donation money for diapers, food, hygiene items, etc. will be given to the center.

Location

Marrakesh, Morocco

Accommodations

Riad Palais Sebban Hotel

Day 3

Into the Atlas Mountains

Today you leave the hustle and bustle of Marrakech and head south to the province of Al Haouz, the Majesty of the High Atlas Mountains. An hour and a half ride takes you to the village of Ikkis in the remote and tranquil Imnanen Valley. Today, you'll hike from the valley to a mountain pass, which is approximately 6,500 feet. This is an uphill trek taking approximately 3-4 hours… and you will have additional snacks, water, etc. (You can skip this hike, and the bus can offer you a ride.) Upon arrival at the pass, you'll picnic with catered lunch surrounded by unique mountainous beauty.

Afterward, you will follow a zigzag mule path down to the village of Aguersioual, where you will stop for famous mint tea at a Berber Family Lodge. (The official name of these incredibly friendly and welcoming people of Berber tribes is actually Amazigh, a word which means "free people." The name Berber derives from the word "Barbarian" ~ and in general the Amazigh don't like to be referred to as Berbers.) After this rest, our group will follow the valley to Imlil, the starting point for Toubkal mountain climbing expeditions. Here, we will be welcomed at the Dar Imlil Hotel, which we will stay at for two evenings.

*Berbers or the Berber peoples, also called by their contemporary self-name Amazigh or Imazighen, are a diverse grouping of distinct ethnic groups indigenous to North Africa who predate the arrival of Arabs in the Arab migration to the Maghreb.

Accommodations

Dar Imlil Hotel

Day 4

Hiking the Villages Around Imlil

Today, you have 2 options to best honor your energy:

OPTION 1 - Easy walk: After a leisure morning at the hotel, walk up to the village of Aroumd. Approx. 45mn-60mn. Have a picnic lunch then walk back on a different route.
OPTION 2 – Long hike (5 hours): After breakfast, hike to the holy site of Sidi Chamharouch. Following the mule path along the mountain stream you pass the village of Aroumd built on a glacier moraine. The scenery becomes more alpine as you are progressing towards the junction of two valleys and where the shrine of Sidi Chamharouch is located. Very famous for its location in the altitude and its particularity for being a spirit rather than human, Sidi Chamharouch attracts many Moroccans looking for cure from the evil eye and asking for fertility. This is also a refreshment stop for hikers on the way to Toubkal base camp. After a rest, walk back to Armed for a picnic lunch, then you will trace your way back down to Imlil. In the afternoon visit a local women's cooperative.

*Aroumd is a small Amazigh village in the Ait Mizane Valley of the High Atlas Mountains of Morocco. Its population is around 1,900. Its altitude is 1900 m above sea level. Aroumd is 40 minutes' walk up the valley from Imlil, and is quieter and seen as more traditional.

Location

Sidi Chamharouch, Morocco

Accommodations

Dar Imlil Hotel

Day 5

Journey through the spectacular Azzaden Valley

This is a beautiful day of hiking, photography, and wonder! After breakfast, we will drive to Marigha. Here, you will start a 90 minute hike from Tassa Ouirgane down to the quieter yet spectacular Azzaden Valley. Here, you'll continue to Torot, arriving in Anraz, where you'll visit a Berber Jewish cemetery.

Your hike continues through a juniper forest where you'll arrive at our catered picnic lunch stop. After lunch, enjoy a short walk to the La Bergerie Hotel, set in the heart of the Toubkal National Park, approximately 66 km from central Marrakesh. Here, rest and restore on the hotel grounds and enjoy the outdoor terrace overlooking the countryside.

Location

Ouirgane, Morocco

Accommodations

La Bergerie Hotel

Day 6

Experience the breathtaking landscapes of Agafay

At 9:00am, we'll leave the hotel by bus to the starting point of our hike. For an hour, walk along cultivated fields to the village of Marigha. As a group we'll enjoy rest sipping the region's celebrated and sweet mint tea in a local house before we drive to lunch near beautiful Lala Takerkouste, with views of the snowcapped Atlas Mountains. After lunch, our group will drive to Agafay, the Desert of Marrakesh. This desert is a mineral desert that stretches for 20 km, with an amazing micro-climate at the foot of the Atlas Mountains. These climatic conditions are close to the Sahara Desert! There are no sand dunes, but breathtaking landscapes are abundant.

You can also enjoy optional quad biking adventures for a minimal fee. Here, we'll stay in the magical setting of the Agafay Desert at the deluxe Inara Camp, giving you a splendid connection and experience with the desert. This tranquil camp is composed of 18 tents, each with a king-size bed, a lounge area, and a separate bathroom with a hot shower and toilet. Enjoy a swim in the common-area pool, and a delicious dinner, lounging in awe of the surrounding beauty.

Day 7

Picnic under the Argan Trees, then a Camel Ride

After breakfast, travel through the semi-arid plain toward Essaouira where we will see the first Argan trees, considered jewels of this region due to their precious oil. Here, we will stop for a catered picnic lunch in the shade of big Argan trees, and then will embark on a 3-hour journey to Essaouira, full of fascinating sights along the way.

We will then check-in at the Riad Mimouna Hotel, know as a haven of peace, that you will stay in for two nights.

Mid-afternoon, enjoy a quick ride to Sidi Kaouki for a camel ride! Afterward, visit a women-run Argan oil cooperative before heading back to Essaouira for an evening of integration, rest, and delicious food!

Location

Essaouira, Morocco

Accommodations

Riad Mimouna Hotel

Day 8

Explore the 18th century port city of Essaouira

Essaouira is a port city and resort on Morocco's Atlantic coast. Essaouira is protected by 18th-century seafront ramparts called the Skala de la Kasbah, which were designed by European engineers. Old brass cannons line the walls, and there are ocean views. Strong "Alizée" trade winds make the city's crescent beach popular for surfing, windsurfing and kitesurfing.

This morning you will have a two-hour guided tour of Essaouira, which is known as an old pirate's hideout, offering a multitude of small squares encircled by Portuguese, Berber, and French battlements. The pace of life is more relaxed here, and the whitewashed houses and narrow streets lend a truly Mediterranean air to the city.

The afternoon is left for your own exploration with optional activities such as horseback riding, surfing, or a cooking class. Our group dinner will be offered in a local, celebrated restaurant named O'Bleue Mogador.

Location

Essaouira, Morocco

Accommodations

Riad Mimouna Hotel

Day 9

Tour the famous blue Majorelle Gardens

After breakfast, transfer back to Marrakesh to check back into the Riad Palais Sebban, where we first began our adventure. Here, we will visit the famous blue Majorelle Gardens, and enjoy time on your own for shopping and exploring. Our special farewell dinner is at the Palais Sebban, celebrating this unforgettable trip

Location

Marrakesh, Morocco

Accommodations

Riad Palais Sebban

Meals

Dinner

Farewell dinner at Palais Sebban
Trip Leader: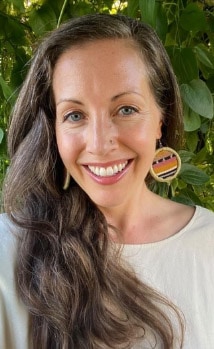 Christine Lily Kessler
Christine Lily Kessler, Ed.S., E-RYT 500, founder of Nourished Heart Yoga & Training, founder of Blooming Life Yoga Studio + School, Adjunct Professor at Butler University, Author, and Artist. Lily has been welcomed to participate in Vedic pujas, invited to private ceremony with the Lakota Sioux, has been initiated within Mystic Orders in both Peru and within the United States, and continues to learn and teach from other cultures and traditions. Lily is cofounder of the international BodyAwake Yoga School and loves to incorporate yoga on all her trips!
Please login to view contact information.

Complete this form to reserve your spot today!